EMERSON, Ga. – On a floor full of stars, five-star junior Keyonte George sent a major message on Sunday at the Exposure Breakout event. Just how good was George? Who else stood out during the final day of action in Georgia? National Basketball Director Eric Bossi has the recap.
KEYONTE GEORGE SENDS A MESSAGE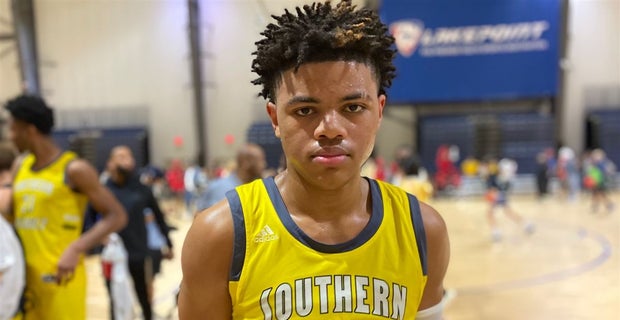 Five-star Keyonte George is already the top ranked shooting guard in the class of 2022. Still, he's playing for respect and has been as good as any player in America so far this spring. He'd been very good all weekend long, but on Sunday he was dominant during the weekend's most highly anticipated game, a win for his Southern Assault over We All Can Go and sent a message that he's not backing down from any challenges this spring and summer.
George went for 35 points and he did it in loud fashion and he was clearly the best player on the floor. I'll discuss the other guys later on this is article, but for now I want to focus on just how impressive George was.
There was a charge in the gym on Sunday morning fed off the crowd and high-level competition. Trash was talked by both teams, the gym was about as packed as it could be given Covid measures in place, it was a great atmosphere. George hit from deep, scored on high degree of skill drives and he was also good on the glass and as a defender.
"I mean it is all love off the court," George said after the game. "Between those lines, it is different and I'm going to come right at you."
Going right at opponents has been George's calling card this spring. He's not ducked any competition and his focus looks to be as clear as it has ever been. Sunday wasn't an outlier, this is how he has been playing in multiple events while leading his team to a lot of wins.
The jump shot is still a little streaky, but George's strength, skill off the bounce and advanced mid-range scoring. At 247Sports we have him ranked as the No. 1 shooting guard in the class of 2022 it is my opinion that we have him ranked far too low at No. 14 overall. The next time we update 2022, George deserves top five consideration in my opinion.
Going to college, George said afterward is the priority. He is well aware of the early talk that he could be leaning in the direction of a professional move after his senior year. However, he made it clear that he is focusing on college.
"I want to go to College. I want to play in the NCAA Tournament. I want all of that," said George.
Texas has really intensified their pursuit of George since Chris Beard took the job and many others like Arkansas, Baylor, Kansas, LSU, Oklahoma State and Texas Tech, to name a few, would love to have him. There is no hard timeline, but he did discuss how teams are trying to get him on campus in June and that he could cut things down once he's able to start hitting campuses.
SUNDAY NOTES FROM GEORGIA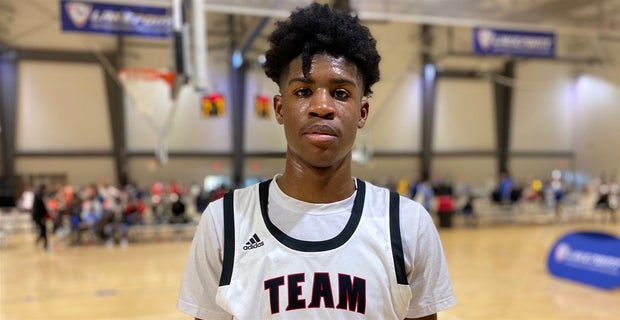 Before getting to the other players in the Southern Assault, We All Can Go game, I wanted to make mention of Team Loaded Va. wing Alphonzo Billups from Richmond (Va.) Varina. Pushing 6-foot-7 he's got tremendous size and length for a wing. He's a smooth athlete with big size and some shot making ability from deep. This kid oozes upside will be in the discussion for the next edition of the 2022 rankings. He's already got offers from places like Clemson, Florida, Oklahoma State, Pittsburgh, Richmond and VCU to name a few.
Make no mistake, Keyonte George was far from a one man show for the Southern Assault. Yohan Traore Collin Smith and Quion Williams all contributed heavily on Sunday. A 6-foot-10 big man who is a pretty sure bet to debut as a four-star prospect the next time we update the 2022 rankings, Traore is going to closely followed this summer. He's got very good strength, some feel for scoring around the basket and plays with physicality. Kansas, TCU and UC Santa Barbara have now offered. More will come.
Smith was locked in and doing what he needed to on both ends of the floor. He played smart defense, chipped in some timely buckets and Smith looks to have gotten much stronger over the last year. I wrote about Williams on Friday night, but he deserves another mention for his energy. He's a high-flying wing who doesn't have a brake pedal for the way he plays.
For We All Can Go, Jaden Bradley led the way as a scorer while fellow-five star Chris Livingston added 21 and LSU bound four-star Devin Ree made some tough shots. Bradley was intent on getting into the paint all weekend long and that continued on Sunday. When he catches the ball in motion as part of the offense, he's tough to keep out of the lane and he's able to take some contact and finish. Livingston went quiet during a key stretch of the second half but was solid overall and as vertically explosive as anybody in 2022. Ree again showed potential of developing into a lanky wing that can stretch defenses with his jump shot.
I'll be real interested to see how far Team Florida comes along over the next few months. They are an athletic group with lots of interchangeable parts and a pretty good trio of players in four-star power forward Gregg Glenn, 2022 forward Brenen Lorient and 2023 guard Carl Cherenfant. Glenn is getting pretty strong and has some skill, when he plays inside/out and doesn't settle for jumpers, he's very valuable. He didn't have his best day finishing at the rim, but Glenn has the type of game many programs really like from a four man. Lorient was one of the better finds of the weekend. At 6-foot-8 he's a springy athlete, can really run and has some offensive promise. He made a very strong first impression. As for Cherenfant, he's a little raw right now, but the near 6-foot-5 sophomore played mostly as a point guard and is a livewire athlete. He stuck a big pull-up jumper to win a game late and is bursting with potential.
During Sunday's final round of games, Team Loaded NC got off to a pretty slow start against Game Elite. After about five or six minutes, MJ Rice decided to take things into his own hands. Rice relentlessly attacked the rim and used every bit of his athleticism and physicality to impose his will on the game. Rice is a straight up intimidator of a wing and if you are going to go toe to toe with him you had better have some serious toughness. He got to the line, was on the glass and provided a really strong finish to a great weekend of basketball while leading Team Loaded NC to a come from behind win. NC State is thought to be in pretty good shape with him while Kansas offered earlier this spring.